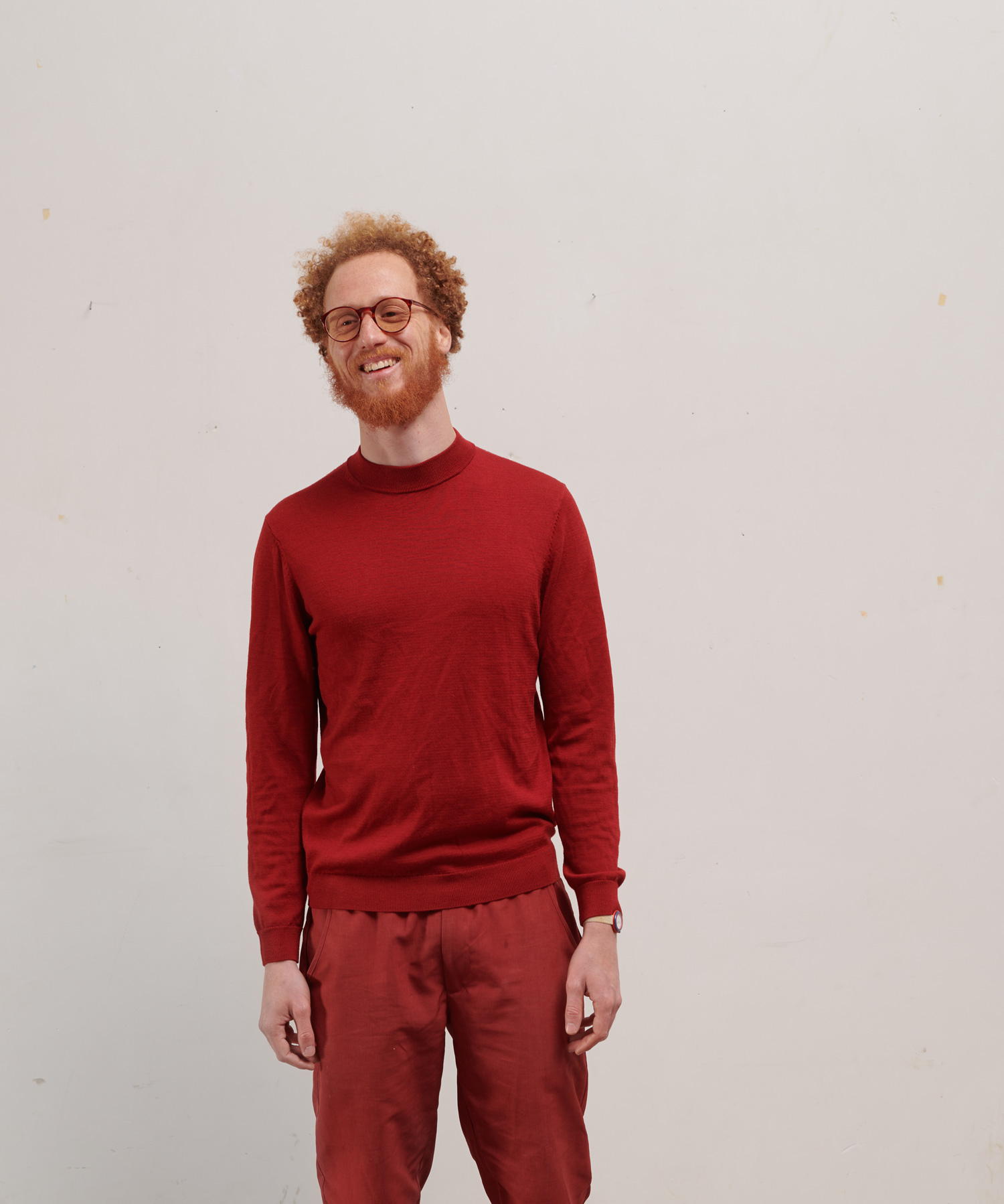 Dion Soethoudt, a visual communication designer.Being neither white nor black, his mixed cultural and physical identity is inescapably prominent in his life. It has shaped an unique and deviant way of thinking and designing, which often results in humour and challenges the status quo. This is the core of who he is and it is the core value of his work.Just as a tickle provokes an extreme but light sense of pain, humour can act as an extreme and light agent to push boundaries, shape new norms, and transfer controversial thoughts and ideas.He collects subconscious human behaviours and translate those formative moments into visual narratives. He works through multi-disciplinary design methods, such as illustration, 3D prototyping, installations and product design, conceptual design, speculative research and visual translations.Through design, he dares to confront our collective frictions and tickle our most vulnerable fears.
ビジュアルコミニケーションデザイナー Dion Soethoudt。私のアイデアは諸分野の学問的デザインへと変換され、人間の潜在意識の行動を描き出す

私のデザインの中核をなすのは、物語の意味、そしてどのようにシリアスなトピックを視覚的に変換させ、それをある形を持った瞬間として創作するかということ。

白人でも黒人でもないという、生まれもった文化的にも肉体的にも目立った複合的なアイデンティティ。それによって、私は社会から逸脱した得意な場所を選ばざるをえなかったし、それは私自身の考え方やデザイン手段を根本的に形づくってきた。

それにより私の作品は度々ユーモアを伴い、ユーモアが社会の基準からは逸脱した行為であるように、私たちの思考に挑戦をするのだ。

info 🐒 studiosoethoudt.com
The Netherlands
CC: 66557186
CVof Dion Soethoudt
Educations:

Design Academy Eindhoven - www.designacademy.nl
Graduated 2016, BA of arts - Communication
Eindhoven, NL

Design Academy Eindhoven is an interdisciplinary educational institute for art, architecture and design in Eindhoven, Netherlands.

Sint Lucas - www.sintlucas.nl
Graduated 2010, Interactive media design
Eindhoven, NL

SintLucas is a school with a wide range of creative technical programs.
Experiences:

WORTH partnership project - www.worthproject.eu
2019, March, Winner design competition.
Valencia, SP

Project 'Fugazi Fugazi' got shortlisted for the WORTH partnership project in Valencia, Spain. On the 2nd of March 2019 I was invited to present the project for the final assessment round to the renowned judges. In the end it passed the evaluation and was awarded with the funding and project development coaching program.

Playgrounds NEXT - www.weareplaygrounds.nl
2018 + 2019, Talent development program awardee.
Brabant, NL

NEXT is a new tailor sized program intending to further local talent in tight collaboration with the industry, creative and educational field. The program supports local talents by using all means and individual guidance and coaching.

Art Center Ongoing - www.ongoing.jp
2018, April + May, residency + exhibition.
Tokyo, JP

Invited to partake in a two month art/design residency at the renowned Art Center Ongoing. Closing the residency with a week long exhibition, presenting the project "Temporary logic".

Design Academy Eindhoven - www.designacademy.nl
2017, October, DAE graduation show Coordinator: entree and cashregister
Eindhoven, NL
Reference: Caroline Wierckx +31 6 23297671

A three week assignment where I was assigned to coordinate the graduation show entree and ±100 student employees. During the Dutch Design Week 2017, 50.000 visitors entered the Design Academy.

Technical University Delft - www.tudelft.nl
2017, July, Tutor for Masters Course Visual Communication Design TU
Technical University Delft, NL
Invited by Prof. C. van Middelkoop, MFA Chair of Visual Communication Design

PICTORIAL SPACE: "What I need from you are your eyes, your way of thinking and your ability to express your thoughts in a communicative and constructive way. And contribute in guiding the projects of the TU Delft students." - C. van Middelkoop

Technical University Delft - www.tudelft.nl
2017, June, Tutor for Masters Course Visual Communication Design TU
Technical University Delft, NL
Invited by Prof. C. van Middelkoop, MFA Chair of Visual Communication Design

POST-POSTFOLIO: The aim of this workshop will be to show the importance of having a voice of your own and how you can best prepare for the way(s) in which this voice might change over time, depending on the context in which you present yourself.

Vilnius Action
2017, 24th September – 1st October, Participation design workshop
Vilnius, LT

A team of young designers where invited to address some important questions concerning the re-emergence of the synagogue on Gėlių street into the life of 21st-century Vilnius.

MADE Labs - www.madelabs.it
2017, 24th - 31st July, Participation design workshop
Syracuse, IT

8 days of workshops and lectures, 24 excep- tional guests. To discuss authenticity and cultural heritage at the intersection of design, architecture, art, craft and local tradition.

I participated the workshops of:
Guillermo Santoma - Vernacular tourism & Bethan Laura Wood - Through your eyes

Dion Cursus
2017, 12 weeks, Comicbook course
Den Bosch, NL

A 12 week-long course where participants learn how to create intriguing characters, layered storylines and expressive comics.

Business your design - www.kossmanndejong.nl
2016 + 2017, 8 classes
Eindhoven, NL

An annual workshop given by Ellen Schindler aimed at professionalising your design studio. I participat- ed this workshop annually for a complete, in-depth and personal guidance regarding Studio Soethoudt.


Design Residency: Work in progress - Basalt- www.picodorefugio.com- www.vimeo.com/151586977
2015, January - Fabruary, 4 weeks
Soa Miguel - Azores island, PT

Focus on a process of research that was transversal to the different properties of Basalt and divided itself between visual features and the geological characteristics of the different types of local stones. The work done within the residency had an approach of several panoramas.

Internship junior product designer: Studio Joao Abreu Valente - www.studio-jav.com - www.ojeam.studio
2014, 6 months
Lisbon, PT

A 6 month internship as an junios product designer, focussed on multiple materials, including ceramic earth-ware and basalt.

Leading lecture: Conversas XCI - www.arquivo237.com
2015, September
Lisbon, PT

I got invited by Arquivo 237 for the "Conversas Lisboa" — a series of weekly lectures to get to know and talk about each other's projects.

Modeling: various agencies - studiosoethoudt.com/modeling
2014 - present
Lisbon, PT

On occasians I do modeling work. I have been represented by various modeling agencies like Elite Lisbon and others.

Stand-up comedy
2015 - present
NL

Sporadically I partake in stand-up comedy open-mic nights.
Exhibitions:
Publishings:
References:

Prof. Catelijne van Middelkoop, Studio Strange Attractors
coordinator@strangeattractors.com
+31 624 867 799
www.strangeattractors.com
Rotterdam, NL

Designer Joao Abreu Valente, Studio JAV
joaoabreuvalente@gmail.com
+351 930 603 984
www.studio-jav.com
Lisbon, PT